NEWS
$50 CASH PRIZE "Throwback Patriot" remix contest!!
Bobby FKN White
September 5th, 2018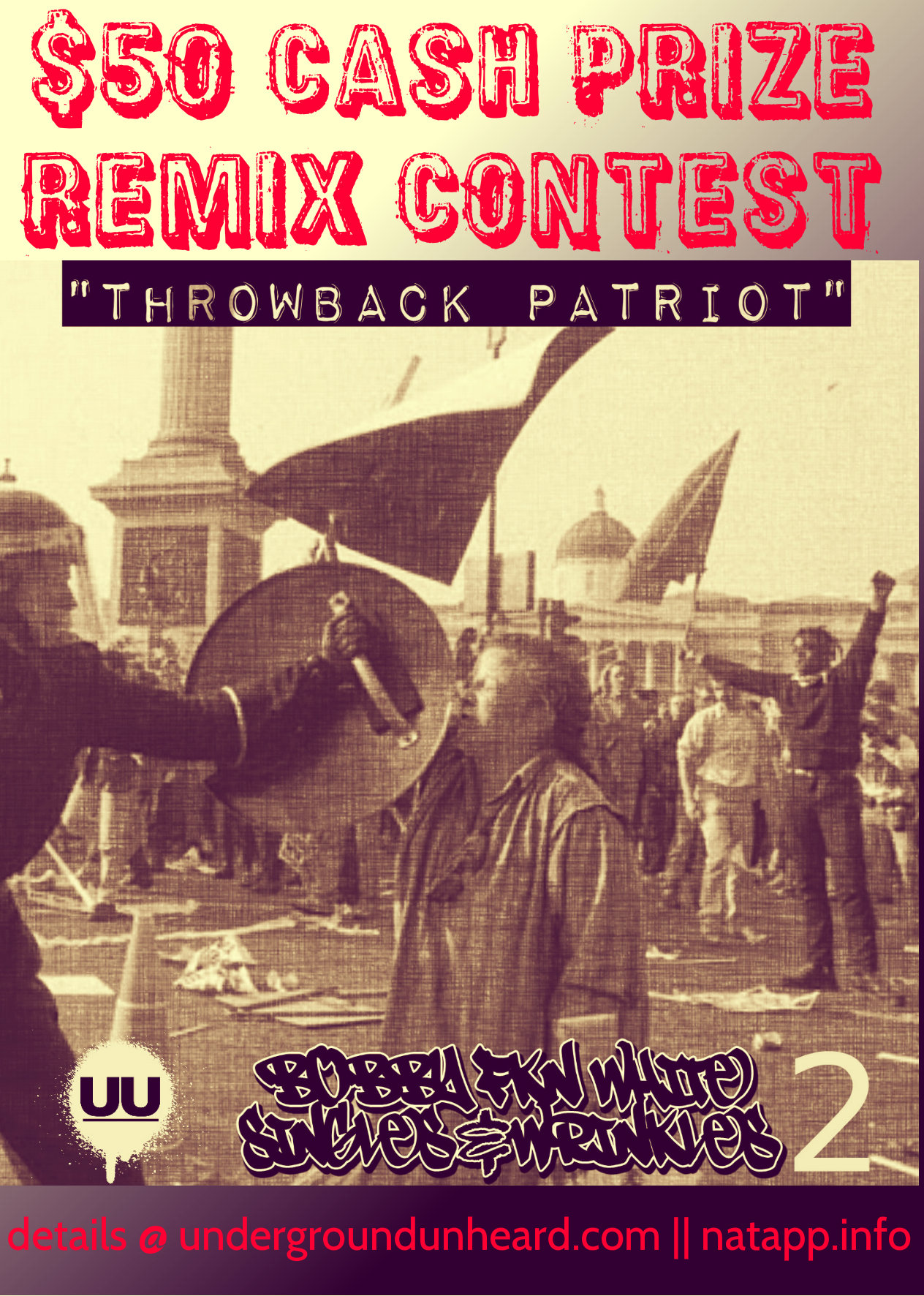 DOWNLOAD the a capella for "Throwback Patriot" by Bobby FKN White off the "Singles & Wrinkles 2" album off SoundCloud here:
https://soundcloud.com/bobbyfknwhite/throwback-patriot-by-bobby-fkn-white-acapella
Underground Unheard Presents….
|||| THROWBACK PATRIOT REMIX CONTEST ||||
$50 via pay pal for 1st place winner!!
For more info: www.undergroundunheard.com || www.natapp.info
DOWNLOAD the original track "Throwback Patriot" here:
SPOTIFY –
BANDCAMP – https://undergroundunheard.bandcamp.com/track/throwback-patriot
RULES:
* Must use the whole verse in the original consecutive order.
* Only one submission per producer.
* Any type of softwareor hardware is permitted.
FAQ:
Q: Does the style of the beat have to be Hip Hop/Rap?
A: NO. Any style is welcome to submit.
Q: Can I chop the vocals and rearrange.
A: You can chop the vocals but can not rearrange them.
Q: Is adding effects and processing the vocals permitted?
A: Yes, any effects, compression, processing or other mods to the acapella are allowed.
Q: What if I dont have pay pal, how do I receive the prize?
A: You will have the option of $50 cash enveloped via US Postal service.
For more info: www.undergroundunheard.com || www.natapp.info
SUBMISSIONS:
* Submissions will be judged by the following Hip Hop artists:
– DJ Jet [ turntablist of Free The Optimus – Asheville, NC. ]
– false tropics [producer of Underground Unheard – Asheville, NC. ]
– Johnny Savage [rapper of ex Old Dominion – Portland, OR.]
* Email your submission to Underground Unheard: [email protected]
Be sure to have "Throwback Patriot Remix Submission" as the subject title.
* Must be completed and submitted via email before midnight October 15 2018.
* Winner of the contest must sign a Terms of Agreement for exclusive rights to UU for the beat before recieving the prize.
TRACK INFO:
track: Throwback Patrtiot
producer: false tropics
artist: Bobby FKN White
album: Singles & Wrinkles 2
Label: Underground Unheard Records
stream/buy: https://undergroundunheard.bandcamp.com/track/throwback-patriot
LYRICS:
The kids call me old school / pen and the pad
Never had a brat of my own / but I could be your dad
Old enough to rust chunks amongst stuff from the past
With raps cold to the touch / they frozen to last
Relax be cool / Enjoy the enviorment
It wont be long until we all been wired in
Until then / Im a friend blending in
with all the mens participating in their imprisionment
System still rigged / just as it always was
Pistons dont break just because numb nuts
Use your brain / Theres always a reason
Man behind the curtain is hurtin but not bleedin
Learn your history / the mystery is whos lying and whos not
Dont talk to cops or the truth gets mocked
Dont spat a rap or mention Hip Hop
Depending on your skin / you might get plopped
Tick Tock the clocks against you
Yet time is a non existant issue / Now pick two
A fifty-fifty stance / a pretty nifty chance
You may get what you planned
If you want some / better come and take it
You break it / Better fucking replace
Now face it in lame mans / no payments
Five finger arrangements is preventive mainteniece
With a modern day cadence / the break is
Still stolen like the country is
Run in abundunce when the glutens been fundin shit
They have been / This aint nothing new
Same dang team / whether its red or whether its blue
Played puppets picked by pricks pulling strings
Political scape goat / looped / doing a jig
Only the sheeps notice that the goats exist
Still climbing walls whether or not they are cliffs
Get pissed! / Protest were they want you to
Amendements / they not what they used to
Be the change / instead of just asking for it
Spare quarter on the floor is a ground score
In my days we marched with megaphones
Let phones at home and hummed poems in beta tones
For more info: www.undergroundunheard.com || www.natapp.info