Event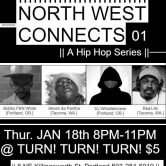 NORTH WEST Connects 01 // A PDX Hip Hop Series
Location:

8 NE Killingsworth St, Portland, OR

Venue:

TURN! TURN! TURN!

Length:

07:00 pm – 11:00 pm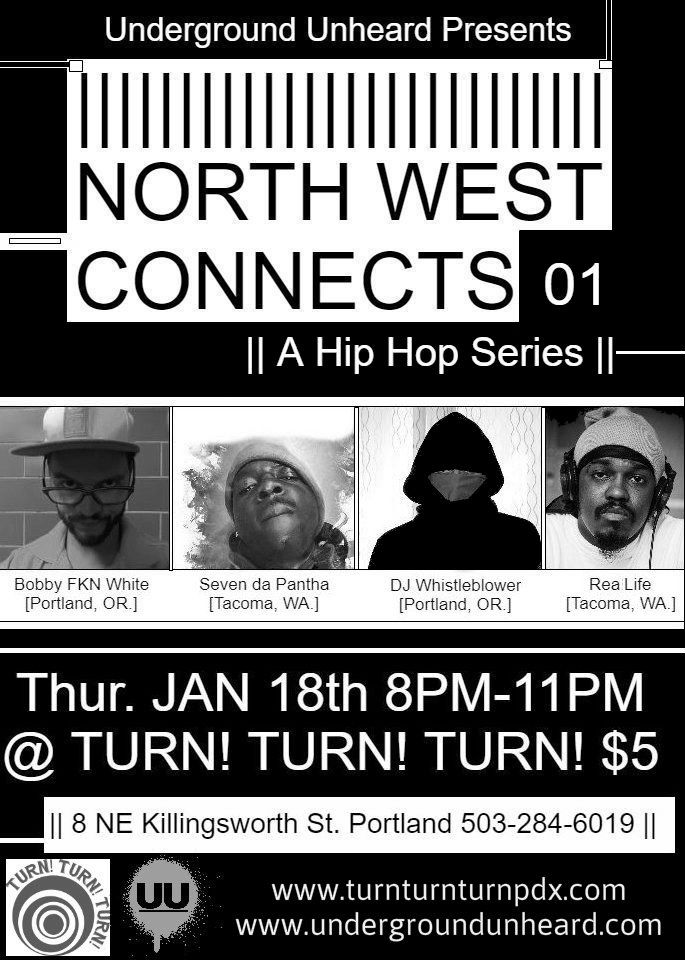 FACEBOOK EVENT: https://www.facebook.com/events/1949635451953131/
THURSDAY, JAN. 18TH 2018
Underground Unheard Presents…
// NORTH WEST CONNECTS 01 //
Join the #UUcrew and special guests for the first installment of Portlands' newest Hip Hop monthly. NORTH WEST CONNECTS is dedicated to showcasing PDX Hip Hop artists with support from regional and national touring acts who strive to keep the culture of Hip Hop alive through dedication and persistance.
THURSDAY, JAN. 18TH 2018
DOORS: 7:30pm
SHOW: 8:00pm-11:00pm
$5

@ TURN! TURN! TURN!
8 NE Killingsworth St,
Portland, OR 97211
503-284-6019
for more info visit:
www.undergroundunheard.com
https://turnturnturnpdx.com/
/// Bobby FKN White [Portland, OR.]
music: https://soundcloud.com/bobbyfknwhite
video: https://youtu.be/iYf7f4qsmKg?t=1m10s
Bobby Fuckin [FKN] White is an American rapper, DJ/turntablist, booker, promoter and illustrator. He is also the co founder of "Underground Unheard" and the Hip Hop duo "True Believers". Bobby has also played roles such as scout, talent buyer, and even executive producer on multiple compilations involving various artists. Aside from writing/recording raps, DJing and touring, Bobby White currently maintains a steady position as general manager for a Hip-Hop/EDM night club in downtown Asheville North Carolina.
Bobby officially entered the music industry as a teenager in the year 2000 as the lead singer and bass player of the (ex) North Eastern Pennsylvania punk rock band "Gellatin Criminals". His band was the leading pioneer in the PA punk/ska scene for five years with many releases and shows. Some performances included "Battle of the Bands" which often ended victorious for Bobby and his band. When Gellatin Criminals broke up in 2005 Bobby moved to North Carolina. It was during this time that he directed his musical talent of song writing and producing, to rapping and free-styling. It wasn't too long after that Bobby Fuckin White and long time collaborating partner Relik formed True Believers and Underground Unheard.
Since he he began recording Hip Hop, Bobby FKN White has released: two EPs, two LPs, multiple singles and one official music video. His music video "Money Jam" trended and initially went viral racking over 100,000 views in two months. Currently Bobby is getting ready to release his next album "Singles & Wrinkles 2", set to release early Spring 2018.
/// DJ Whistleblower [Portland, OR.]
music: https://soundcloud.com/dj-whistleblower
video: https://youtu.be/iYf7f4qsmKg?t=2m41s
The masked member and long time contributor is a Turntablist DJ who uses all mediums of sound delivery yet still favors turn tables over any other. Since he joined the collective over 5 years ago, DJ Whistleblower has performed multiple shows of all types and sizes including weddings, burns, sets for rappers and even smaller festivals across the South East USA. His ability to keep the party and the people moving helped him create a positive reputation allowing him to solidify several residencies. There are two annual events DJ Whistleblower has been hosting over the past two years; "Mardi Gras of the Carolinas" and "NYE Prohibition Party". Both events have been very successful pulling in crowds of hundreds of people. The more reoccurring residency Whistleblower has been hosting is "Beats & Brews", a weekly event held every Monday for almost two years now. "Beats & Brews" features all types of trip hop, downtempo, boom bap, glitch, hip hop beats from local to national producers. You can catch DJ Whistleblower at "Beats & Brews" every Monday night at One World Brewing, the underground micro brewery located 10 Patton Ave Asheville NC. 28801
/// Seven da Pantha [Tacoma, WA]
music: https://soundcloud.com/seven-da-pantha
video: https://youtu.be/f8rJ6c_iDy4
Seven Da Pantha, also known as Young Bunchy Carter, is the latest in a long line of talented Hip-Hop artists to come out of North Carolina in the last decade. After a low-profile start, Seven finally saw his hard work come to fruition with the release the EP Ridin' High in 2009 via the now defunct Domination Recordings. After the success of the singles "Where da Riderz At?" and "Never Leavin' A Trace" featuring Supastition and Equinox, the follow-up LP Born Wit' Less (Domination Recordings) was met with critical praise in 2010 and brought Seven to the collective consciousness of the underground Hip-Hop community. The album birthed the highly successful single "Da Come Up" featuring Rashad Yarnell, and introduced Seven's brand of lyrical revolution to a much broader audience.
Emboldened by the reception of the people to Born Wit' Less, Seven released his most in-depth and challenging project to date entitled Halo-Graphik in 2013. His first release under the banner of Soundchamba Productions (ScP), the album was received well by both critics and listeners, particularly the poignant records like "Yesterday Is Gone", "Losin' My Religion" featuring Jon Blaq, and the powerful "Another Story (Young and Restless)". This started a fresh round of local and regional performances, each one further adding to Seven's explosive track record of being one of the underground's best live performers.
Looking to keep the momentum going, Seven linked with Tacoma, WA producer Truss One (@trussoner) and released the Shooting Starz EP, which birthed one of Audiomack's Top Hip-Hop songs of the year, "Walkin' Dead" featuring fellow Soundchamba MC Apostle A.P. and introduced Seven's growing fan base to the ScP roster. The singles "Showtime" featuring Britney Nicole, "Pantha Politix 2.0" and "Hunger (Sometimes)" garnered lots of college and internet airplay and pushed Seven into the upper echelon of independent artists.
In May 2016, Seven released the long-awaited Kwest 4 Greatness, co-piloted by NC producer Kwest (Soul Amazing Productions). The album has no features and is an uncut look into the mind of a man trying to become what he's never been but felt he was destined to be. The album sprung a minor hit with "A Rider" which leaked to the public in late April. The video, directed by Otrocity, has been featured on several blogs, and the song has received considerable international radio play. The official first single, "It's U" got the album off to a great start, with the latest single "Food 4 Thought" already being featured on several blogs including the UK's own Right Chord Music. 2016 and beyond looks bright for "Young Bunchy Carter" and the Soundchamba Productions family.
/// ReaLife [Tacoma, WA.]
music: https://soundcloud.com/realife253
video: https://youtu.be/R2oHoXUAVjU