Event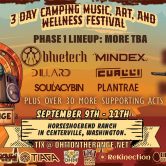 OHM On The Range FESTIVAL w/ Bluetech, Mindex, Dillard, Soulacybin & more @ Horseshoe Bend Ranch, WA.
Location:

Centerville, WA.

Venue:

Horse Shoe Bend Ranch

OHM on the Range – 3 Day Festival
September 9 @ 11:00 am

–

September 12 @ 2:00 pm

$79.95 – $219.75
General admission includes 3 days of camping at Horseshoebend Ranch in Centerville, Washington just 2 hours outside of Portland, OR. Our first year festival will showcase 30+ musicians/djs, arts, vendors, wellness, and much more. Our phase 1 lineup includes Bluetech, Mindex, Cualli, Templo, Dillard, Plantrae, Templo, Soulacybin, Blank, Iroh, Eye MC, Krushendo, Maevol, Rhymewave, Samoureye, Siwa, Sol Starling, Sun Lapse, Rob The Universe. Many more acts TBA in Phase 2!
Ohm on the Range will provide Hennessey Sound Design via Tiaga and Elevated Intentions for our main stage rig as well as a full production including lasers and lighting. We invite visual artists, musicians, djs, vendors, food trucks/food vendors, and anyone interested in working the festival for ticket trade to head on over to our Get Involved Page.
Tickets for Phase 1 General Admission include 3 days of camping, music, and access to the festival grounds from Friday at 11 am to Monday at 2 pm.
We hope to see you on the range!
***By purchasing you agree to our Terms and Conditions. All tickets are non refundable.***
Here is our FAQ, we will be adding onto it as we go.
FACEBOOK GROUP PAGE: https://www.facebook.com/Ohmontherange808
FACEBOOK EVENT PAGE: https://www.facebook.com/events/769754620858762