Event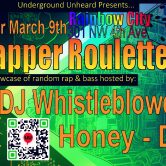 "Rapper Roulette" w/ DDwili, Knowsee, Sol Disciple, Chrix the Great & more @ Rainbow City – Portland, OR.
Location:

301 NW 4th Ave. Portland, OR.

Venue:

Rainbow City

Length:

09:00 pm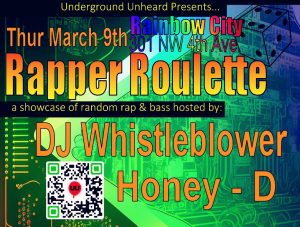 What is "Rapper Roulette"?
Rapper Roulette is a style of showcase/cypher with live rappers and turntablists. It is the newest monthly to hit Portland Oregon hosted by DJ Whistleblower of Underground Unheard. The concept is simple…
Before the roulette begins each participating rapper must submit three tracks to the DJ, they will then be designated a number between one to six . Those six rappers will then cypher around the mic and wait for their instrumental to be dropped. DJ Whistleblower will the roll a six sided die and play the correlating instrumental track without any warning to the rappers. Once the rapper hears their song drop, they must reach in and grab the mic to start performing their song. If a rapper has performed all three of their tracks and their number is rolled it then becomes a "wild card". When a wild card is in play anyone in the venue may intercept the microphone for a "freestyle" over a classic Hip – Hop instrumental. Multiple rappers may spit during a wild card roll. Rapper Roulette is not a competition, it is an experiment in randomness.
If you would like to perform at an upcoming "RAPPER ROULETTE" please contact us at: undergroundunheard@gmail.com
THE FEATURED RAPPERS FOR "RAPPER'S ROULETTE #1" ARE…
DDwili
Knowsee
Chrix The Great
Sol Disciple
Emily Ra
Elad Authority
THE FEATURED DJS FOR "RAPPER'S ROULETTE #1" ARE…
DJ Whistleblower (Halftime, DnB, Bass) https://soundcloud.com/dj-whistleblower
Honey- D (classic Hip-Hop, Breaks)