NEWS
APRIL 23rd 2022 "Flowetry In Motion" feat: Live Rap, Jazz Bands, Spoken Word, Break Dance & MORE!!
Bobby FKN White aka "Nature's Apprentice"
April 15th, 2022
Shuffle on down to the newest and revolutionary new psychedelic arts gallery and musical venue in Portland! For a full day's Soire celebrating the art forms of Jazz, Hip Hop, Poetry and the performing arts with a variety show of jugglers, clowns and cirque fusion. 🎪
Featuring a fully stacked lineup well into the next day! C3theGuru, Torin Frost, Rhymewave, Rob The Universe, Nature's Apprentice, Emily Ra, An intro breakdancing lesson from Adrian Lobo, A Bellydance performance from the 11:11 band, live circus performances and jazz music throughout the night from the Carlson Quartet and The Backbeat Jazz band featuring some of the finest poets in the Pacific Northwest!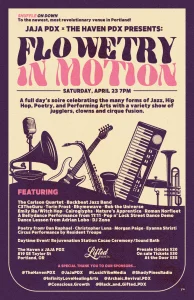 FLOWETRY IN MOTION
presented by JAJA PDX and The Haven …….
||||| Featuring JAZZ artists |||||
The Carlson Quartet
Backbeat Jazz Band
||||| Featuring Rappers |||||
C3TheGuru
Torin Frost
Rhymewave
Rob The Universe
Emily Ra/Witch Hop
Nature's Apprentice
Roman Norfleet
||||| Featuring Poets |||||
Dan Raphael
Christopher Luna
Morgan Paige
Eyanna Shristi
BELLY DANCE at 11:11
Pop N Lock Street Dance Lessons by Adrian Lobo
4/20 Tickets $30
At the Door $35
VENMO: @lucidvibes or https://venmo.com/code?user_id=3517236748748744735 (leave name in comments)